Irish Pub & Restaurant
Address:
5 – 17 Mackeurtan Avenue Durban North (Up the road from Virginia Circle and across the road from the petrol station).
Natal
Business Description:
A true Irish Pub usually bears the name of the owners. We are the Connors, this is our house, and we are open to the public. Over the years we have earned our reputation as The Home of Irish Spirit in Durban. And we invite you all to "Make yourself at Home".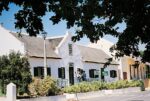 Address:
12 Church street TULBAGH
Western Cape
Business Description:
This is the oldest house in Church Street and in June 1997 Reader's opened its doors to the public for the first time. Offering simple yet outstanding cuisine, Reader's has been able to maintain a standard of excellence that has created a notable reputation with both locals and tourists. Reader's also hosts specialty functions such as weddings, guest chefs, theme evenings, fancy dress parties and private soirees and small conferences and caters for functions held at other venues. For ISAA members Readers will include a complementary bottle of wine with 2 main courses ordered