St Patrick's Day (Cape Town) - Sunday 17 March 2019
CELTIC RHYTHMS ... WITH CNOC NA GAOITHE
President Hotel, Seapoint on the afternoon of Sunday 17 March
We are excited to announce that we have something VERY SPECIAL for the Irish community and all those who enjoy Irish music, song and dance.
A troupe of eleven young, world-renowned dancers, musicians and singers from Ireland will be visiting South Africa and performing for us on St Patrick's Day this year.  Our Guest of Honour for the event will be
Katherine Zappone TD, Irish Minister for Children and Youth Affairs.
Cnoc na Gaoithe
(phon. Cunnock na Gwee)
have toured widely, returning recently from hugely successful performances in China and the USA. This celebration of the best of Ireland will be held at the
President Hotel, Seapoint
on the afternoon of
Sunday 17 March. 
 Doors open to the auditorium at 2,45 p.m.  Places are limited, so
make sure to book your tickets early.
Tickets for paid-up members of the Irish South African Association are discounted at 
R250.
  The ticket price for non-members is
R300
.  There is also the option of joining us for a traditional Irish lunch before the show, consisting of gammon and colcannon (creamed potato with chopped spring onion), Irish Cream creme brulee and tea or coffee, for just R200.  The meal will be served at 12.45 p.m. This is a once-in-a-lifetime opportunity and a show not to be missed. For tickets, contact Valerie at
members@ireland.co.za
. or on
072 846 3724
BOOK EARLY TO ENSURE YOUR PLACE
St Patrick's Day (Jhb) - Saturday 16 March 2019
CELTIC RHYTHMS ... WITH CNOC NA GAOITHE
Wanderers Main Club Ball Room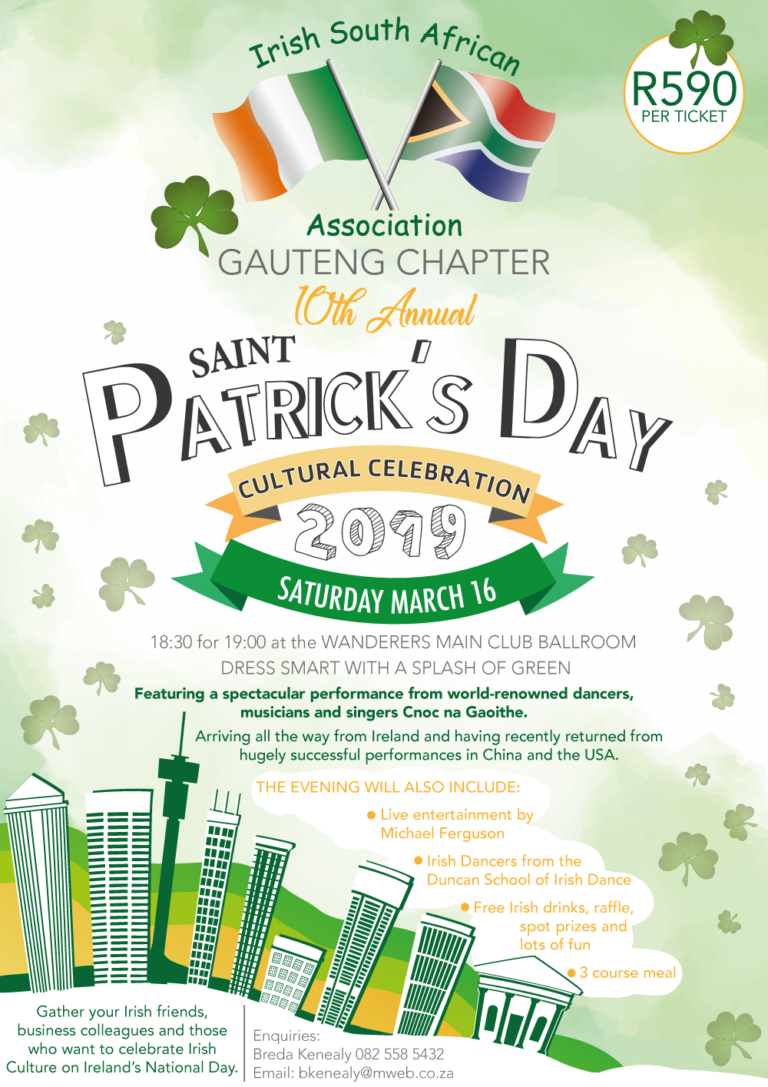 St Patrick's Day (Durbs) - Saturday 16 March 2019
Free Whiskey Tasting on Arrival & Irish Dancing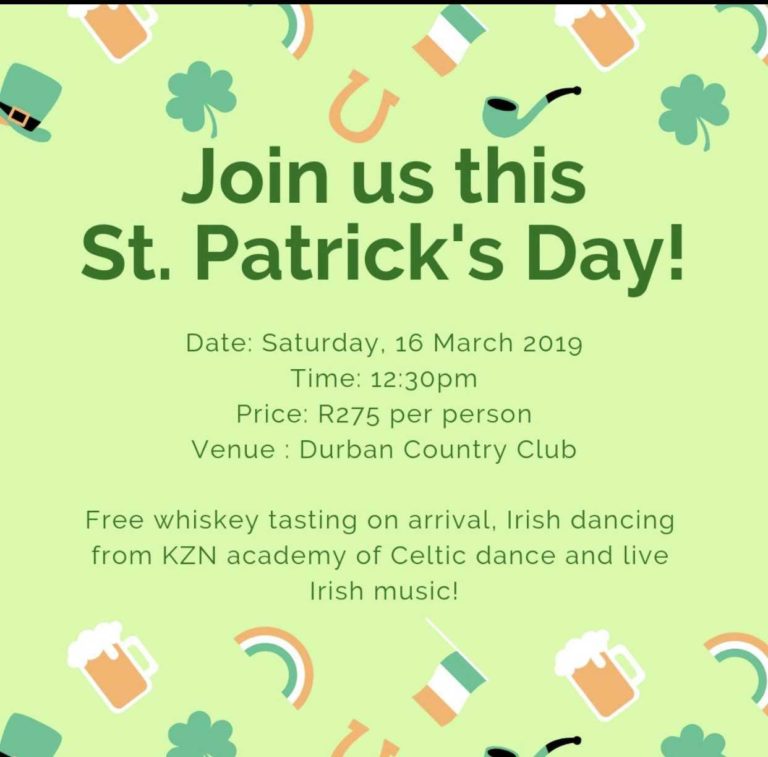 2019 will be a busy Rugby year for Ireland with the Six Nations kicking off in February, the World Cup warm-ups in August followed by the World Cup in Japan, not to mention the PRO 14, the Heineken European Championship Cup and the European Challenge Cup. The ISAA Cape Town Chapter will be planning some Irish rugby events in Cape Town over this period.
Call For Freedom: Ireland and South Africa
Nelson Mandela Gateway
V&A Waterfront
Cape Town
(where you take the boat to Robben Island)
The exhibition is on the first floor of the Museum and will be running until 26 February 2019. It features etchings of the leaders and principal players from the 1916 Rising in Ireland and the links and commonality between the struggle for Irish Independence and that of South Africa. 
The exhibition also emphasises the importance and impact Ireland had in influencing the Bill of Rights and changes to the South African Constitution. Celebration of the centenary of Nelson Mandela's birth and 25 years of diplomatic relations between Ireland and South Africa are also marked in this series of pictures and banners.
Not to be missed!